12D Model
ADAC
Asset Design and As Constructed (ADAC) is fast becoming the standard As Constructed data format nationwide. It is currently being implemented by local authorities and utilities across Australia, including Unity Water and many of the major councils in Queensland.
ADAC is a vendor independent XML format for the description and transmission of 3D asset design and 'as constructed' data. It was created to allow for efficient design, capture, transmission, delivery and use of standardised public works asset format. The ADAC.XML file is the one source of truth.
The ADAC project is managed by the IPWEA
12d and ADAC
12d Solutions has been involved with ADAC.XML since its incep-tion, with 12d's goal being to integrate the ADAC process into the full cycle from Design to Construction, Construction to As Built, and for re-use in future projects.
Using 12d Model's parametric objects and hierarchical attributes, the ADAC data is fully incorporated inside 12d Model so there is no data loss.
12d Model currently supports ADAC 4.0, 4.1 and 4.2 and more importantly, the 12d Model ADAC Editors and Validators are driven directly by the IPWEA ADAC XSD's. This minimises any implementation errors and allows for quick upgrading to any future ADAC Schemas.
12d-ADAC is NOT an additional cost. 12d-ADAC is integrated in the appropriate 12d Model modules and is included free of charge for all customers on annual maintenance.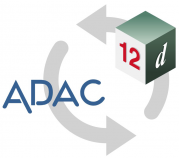 The Benefits of 12d ADAC
Data Fidelity – the ADAC Schema is completely reflected inside 12d Model's parametric objects and hierarchical attributes so that there is no ADAC data loss.
Website:
Keays Software
Keays Software is a Queensland software developer specialising in civil engineering and surveying solutions. ADAC-X is the first commercially available product that reads and writes ADAC compliant files through an AutoCAD interface. ADAC has been developed from the early work John Keays did around 1995-2000 on the Moreton Model.
Keays Software has worked with Redlands, Moreton Bay Regional Council, Gold Coast and Logan on strategies for the implementation of the ADAC vision for digital lodgement of as constructed data. The adoption of ADAC 4.0 file structure was first used after the 2011 floods for the worked done at Lockyer Valley for the Queensland Reconstruction Authority.
ACAD-X is a tool to be used by all departments in a Local Authority and for all engineers and surveyors who prepare data for Local Authorities. ADAC-X is a standalone product that provides viewing of data files for DA approval. ADAC-X is used to author ADAC objects while in the AutoCAD environment (while designing). ADAC-X and Keays Software can be used to convert existing design and survey files into ADAC complaint files.
Talk to John Keays
Keays Software
Ph (07) 3870 1711
Sofoco Pty Ltd plus Duprez Construction Services Pty Ltd - "ADACX"
ADACX, running in BricsCAD or AutoCAD, provides a great solution for creating and editing ADAC XML files.
- Work in a familiar DWG CAD environment.
- Attach ADAC data to cadastral lots, pipes, pavements and all other asset geometries.
- All ADAC data is contained in your drawing - no separate files to manage.
- Export the project to XML at any time.
- Can also import ADAC XML to create a check drawing.
- ADACX code is generated directly from the 4.1 and 4.2 schemas - guaranteed valid XML!
- BricsCAD is cheap, robust, very compatible and well supported.
- AutoCAD users will be able to use ADACX soon.
Website:
Contact:
Damian Harkin - damian.harkin@sofoco.com.au - 0402 346 961
For our members benefit the ADAC steering group have put together a list of Implementation partners to help in protecting you.
ADAC "Recognised" Implementation partners have been screened by the ADAC steering group as having capabilities in ADAC assistance and implementation.
We are of course unable to know the exact scope that each representative has and if they will suite your business as they all vary in skillset. The ADAC steering group suggest references are obtained from the chosen party, to confirm syuitable capability.
Lion Systems provides specialised services to Local Councils and other asset-centric organisations. We do this by offering hands-on practical assistance to our clients, helping them in understanding and improving the fundamental processes that underpin asset lifecycle management and associated service delivery outcomes.
At Lion Systems we have the expertise to support you with a range of activities that include:
ADAC – 20+ yrs combined Experience in Implementation and Technical Systems
Asset Data Evaluation, Cleansing, Analysis & Improvement
Asset Hierarchy Development (Physical & Financial Systems)
Data Collection & Mobile Computing Tools (hardware/software available to clients)
Process Support for Asset Information Management Systems
Spatial & Aspatial Information Management Activities
Operational, Tactical & Strategic Asset Management Support
Asset Management Planning & Service Planning Frameworks
Asset Data Bureau Services (remote data management and publication services)
The team at Lion Systems have the experience, skills, tools and knowledge to help you quickly improve your asset and data management processes, working collaboratively with your staff, at your pace and within budget. Contact us to discuss your own individual needs.
Geoff Bartholomew & Blake Slaven
LION SYSTEMS Pty Ltd
Ph: 07 5443 5050
Mob: 0409 762 790
W: www.lionsystems.com.au
E: info@lionsystems.com.au
Door 3 Consulting specialises in helping organisations plan and implement process and technological change. Our team has a proven track record in successfully leading and executing major change initiatives at all levels of government and in the community sector.
We can provide skilled and experienced professionals across a range of disciplines including:
Strategic, tactical & operational planning
Executive communication & engagement
Stakeholder buy-in & mobilisation
Business process re-engineering
Program & project management
Business analysis
Systems implementation & data conversion
Training & facilitation
Staff development & support (mentoring, coaching & professional supervision)
We offer a range of flexible engagement options to help maximise the return on your organisation's investment.
John Gorman
Director
Door 3 Consulting Pty Ltd
M: 0430 333 501
W: www.door3.com.au
E: john.gorman@door3.com.au